Synopsis
Attendance is one area where the easy path is harder and the hard path is easier. The more you show up, the more money you make. There's hard data to back this up.
Back in 1985, there were some groups that met twice a month instead of every week. Those groups passed 52% fewer referrals than groups that met weekly. By 1986, all BNI groups met weekly.
The members who have fewest absences close the most business. Fewer absences = more referrals. Three absences in six months (the maximum) lead to 73% less business.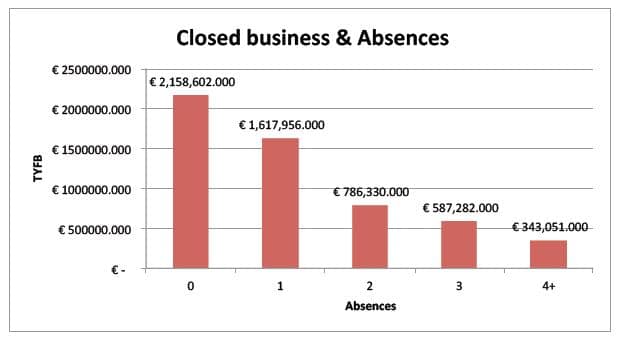 Has your chapter taken steps to improve attendance? What kind of results have you seen? Share your experience in the comments.
Brought to you by the Networking for Success Channel on YouTube.
Complete Transcript of Episode 490 –
Priscilla:
Hello everyone and welcome back to the Official BNI Podcast, brought to you by the Networking for Success Channel on YouTube, featuring Dr. Ivan Miser and many other networking experts. I am Priscilla Rice, and I am coming to you from Live Oak Recording Studio in Berkeley, California. I am joined on the phone today by the Founder and the Chief Visionary Officer of BNI, Dr. Ivan Misner. Hello, Ivan. How are you and where are you?
Ivan:
Hi Priscilla. I am in Mexico this week at a TLC conference that is going on in Mexico. I always learn a lot of things from the Transformational Leadership Council.
Hey, a couple of weeks ago we talked about and I did a podcast about hard-easy, easy-hard. The hard path in life is often easier. You asked for an example in BNI and I mentioned attendance is one of those examples. It is hard to make sure and maintain the attendance policy in your chapter. Yet, the chapter ends up being much more responsible as a result of it.
That's the topic for today's podcast. I mentioned in the previous podcast that I would be covering that. I think it's a powerful topic and one of the things that we have seen over time and we have some hard data to back this up is that if you show up, you are going to make more money. Period. End of story.
I mean, you could probably stop listening to the podcast right now if you just did what I said. But no, it helps if I give you some of the facts, so that's what I am going to do.
Here's a question: Have you ever gotten a hair cut over the phone? Probably not. It is just one of those things that you have to actually be present for. It turns out that is the same with BNI. People joint BNI to exchange referrals and increase business. Intellectually, we understand that it is important to build relationships, but it may not be obvious just how critical it is. It's a referral process.
We have discovered- I have discovered over the years the impact attendance has on the organization. Years ago, we had BNI groups that met twice a month. Yes, it's true. Some groups actually met twice a month back in 1985. Why don't we do that now, you might be wondering.
Well, easy answer. We discovered that chapters that met twice a month passed 52% less referrals than groups that met weekly. Now, I want that to sink in. Groups that met twice a month back in 1985 passed 52% less referrals than the groups that met weekly. That's a shocking statistic.
When groups were shown this hard data back in 1985, every single group except one switched to meeting weekly. And the one group that refused to make the transition shut down from lack of success.
So by 1986, all BNI groups worldwide – back then, just in California – had met weekly. All groups now meet weekly. We tried meeting twice a month and those were the results.
Recently, I coauthored a piece in SuccessNet with Beatrice Sparacino. Beatrice did her Bachelor's thesis on networking and she did a study of BNI groups in her region. In her study, she looked at the amount of closed business compared to the number of absences per member in her region. Now, there is a graph that we are going to include in this podcast that I want you to take a look at.
Those members- this is hard data. Those members who had fewer absences are also the members that received a whole lot more closed business. You can see in the graph that as the number of absences double, the amount of closed business a member generated actually falls by 50%.
Now, does that kind of sound familiar? It hasn't changed over the years. Less absences within a chapter equal more referrals and more closed business. The data is incredibly compelling. Someone who has three absences in six months, which is the maximum they should have, gets 73% less business, Priscilla.
Priscilla:
Oh really? That's a lot.
Ivan:
Yeah. Only three absences and they get 73% less business. Now, here is a shocking number. If someone has four absences in six months, which they shouldn't have- three absences is the maximum in a six month period. But if they have four, if chapters are allowing someone to miss more, those individuals get 84.1% less business.
Priscilla:
It's almost like they are not there.
Ivan:
It is almost like they are not there. It is shockingly low.
This is what I am talking about where attendance is absolutely critical to the success of the chapter and each individual member. You are shooting yourself in the foot if you don't go to meetings. BNI is an accelerator for business referrals, reducing the time required to build relationships and trust among people.
It's that trust that enables you to receive referrals and more closed business. In this sence, being present at your chapter meeting every week helps you be top of mind for your fellow members.
There is a member in Italy- and I told Beatrice that this is a great story. He said that some time ago, he had become really passionate about a famous reality TV show. He said particulary, there was one couple that was competing in the show. He started following them on Twitter, Facebook, social media. Then he said the unthinkable happened. is favorite couple was eliminated from the competition and they were no longer on the show.
At first, he was really disappointed but after a few weeks, he kind of forgot about them. They were invited back as guests to the show. It was at this point that he realized that in an incredibly short period of time, he had totally forgotten his favorite contestants. These were people he was really engaged with, following them on Facebook and doing all of this.
But he had forgotten about them after a few weeks.
The old adage "out of sight, out of mind" is absolutely true. And it's true in BNI. And it's true in referrals. Members who think that missing meetings regularly doesn't really matter are clearly mistaken. The data is crystal clear. Miss meetings and lose business or make meetings and get more business. The data is really compelling and it has been since the very start.
If you are listening to this podcast, take the graph that is shown here. Print it out and the transcript. Take it to your chapter. Talk to your chapter and then go back and listen to the podcast that I did that the hard path is easier because it really connects to this podcast in the sense that if chapters really focus on improving the attendance in their groups, they are going to generate substantially more referrals.
That's all I have for today, Priscilla, unless you have any questions.
Priscilla:
No, I just want to add that I think that it also shows respect for the other members because then you are also attending their 10 minute presentations or whatever goes on in the meeting.
Ivan:
Yeah. And just think, maybe that is part of the relationship process. That is really what we are talking about here. It's maintaining that relationship. Part of that relationship is, as you said, showing up and hearing that week's speaker's presentation. In missing those individuals and their presentations, you just don't tighten up the relationship as much as you can.
So I think that there are some real good subjective reasons like that one. And there are some really good objective reasons like the data that shows that showing up is going to help you generate more business.
Priscilla:
Yeah. I agree.
Ivan:
Well, listen, I would love for the listeners to leave any comments, especially if you have done anything in your chapter to improve attendance and the kind of results that you have gotten by doing that. I think that is the kind of thing that other members need to see. So if you have tightened up attendance in you chapter and had much better results, share it here on BNI podcast.com. Thanks, Priscilla.
Priscilla:
Okay. Thank you Dr. Misner. Well, I think that is it for this week. Thank you so much for attending. I would like to remind the listeners that this podcast has been brought to you by The Networking for Success Channel on YouTube. Thank you so much for listening. This is Priscilla Rice and we look forward to having you join us again next week for another exciting episode of the Official BNI Podcast.