Synopsis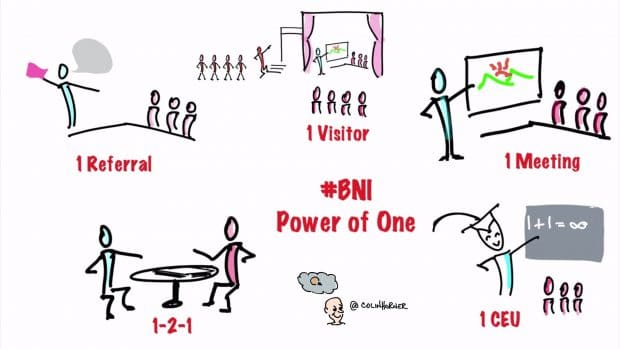 Graphic communicator Colin Horner joins Dr. Misner on the BNI Podcast today to talk about the Power of 1 drives chapter performance in BNI:
One chapter education unit per week
One chapter meeting per week
One 1-2-1 per week
One referral per week
One visitor per member per month
All of these things are measurable. You achieve what you measure. Watch this case study of a chapter in Johannesburg to see The Power of 1 in action.
You can find more of Colin's videos on his YouTube channel.
Brought to you by the Networking for Success Channel on YouTube.
Complete Transcript of Episode 517
Priscilla:
Hello everybody and welcome back to the Official BNI Podcast, brought to you by the Networking for Success Channel on YouTube, which features Dr. Ivan Miser and many other networking experts. I am Priscilla Rice, and I am coming to you from Live Oak Recording Studio in Berkeley, California. I am joined on the phone today by the Founder and the Chief Visionary Officer of BNI, Dr. Ivan Misner. Hello, Ivan, how are you and where are you ?
Ivan:
Hi Priscilla. I am at a Transformational Leadership Council meeting in Arizona this week. The Transformational Leadership Council is an organization put together by Jack Canfield, and I always get great content that I can use in BNI at these meetings. I am here for several days. It's exciting.
Priscilla:
That sounds great. So who do you have on the line today? I know you have a guest.
Ivan:
Yeah, we have a guest. My guest today is Collin Horner. Collin is an almost 10 year member of BNI in Johannasburg, South Africa. I have been to Jo-burg, I think, twice. I love South Africa, and Collin has been a member for 10 years. He has a graphic recording and graphic facilitation [business]. He helps people sell their products and services through visual messages. He calls himself a graphic communicator. He helps people communicate their stories with pictures.
The reason I invited him to be on the podcast today is that he has been giving and giving and giving to me and to BNI with these incredible graphics that he is doing about BNI and the processes that we use, like the GAINS Exchange and VCP. He always has these amazing graphics. I finally said, you know what? I need to give back a little to Collin here. Let's bring him on the podcast so that we can give exposure to what he is doing [for] many people, particularly as it related to BNI. And for the educational content, we are using the power of one in today's podcast.
We will have a graphic here so if you are listening to this on your computer, you can see the graphic. If you are listening to this in your car or on a mobile device, take a look at the website so you can see the graphic.
Collin, welcome to BNI Podcast, and talk to us a little bit about the power of one and how you visualize that.
Collin:
Thank you, Ivan, and it is great to join you on this podcast. Just as you say, I have been a member of BNI for 10 years and a very active member- in fact, a Director Consultant for the last three years. My passion is lifelong learning or education. I found a way of communicating educational content related to the BNI model through simple hand drawn pictures. To use one of your Ivan-isms, "Facts tell and stories sell." So I sell educational content through simple pictures.
Ivan:
And we are going to be talking about the power of one today, which is a concept that has been around a while, but you have put it together visually incredibly well. So you want to go through all of the different ones that are part of the power of one with us in the time we have here, Collin?
Collin:
My other passion is managing and measuring. That is one of the strengths, I think, of BNI. The way we measure and record our performance. I have done a lot of visual analysis of chapter performance and there is no doubt that chapter performance is driven and chapters achieve performance through what we call the power of one, so it's basically five concepts.
The first one is one of the core values. It is lifelong learning. So every member commits to one chapter education unit a week. They commit to educating themselves and measuring it through achieving one chapter education unit.
The second one, and I think this is probably the most important one, is we all commit to one meting a week.
Ivan:
One 1 -2 -1. I couldn't agree with you more, Collin. That is really. Important.
Collin:
If you commit to one chapter meeting a week, in fact, there is no absenteeism at all, you will –
Ivan:
I'm sorry. I was confused. You are saying commit to being there at the meeting.
Collin:
Being at the meeting. Be present at the meeting.
Ivan:
So everyone knows, in one of my next podcasts, I am going to give some hard data on what Collin is talking about right now. Showing up makes a difference. Sorry, Collin. Go ahead.
Collin:
Absolutely. You know, I have heard you speak many times about the fact that the biggest commitment a BNI member makes is time. So you make the time. You show up. You ar present and you are visible.
The next one in the power of one is one 1 – 2 – 1. You commit to one 1 – 2 – 1 per week with one of your fellow members and you are known and you develop a relationship with a future referral partner.
That automatically leads to one referral per week. It is very, very easy when you develop relationships through the 1 – 2 – 1 meetings and the GAINS Exchange profiles and you get to know your referral partners. It is very easy then to achieve one referral per week.
The final one in the power of one equation is one visitor per member per month because. Visitors are the lifeblood of BNI and the networking effect is an exponential effect. The bigger the network becomes, the more potential there is for referrals. So we maintain and. We grow our networking groups by brining visitors into the chapter meetings, introducing them to the BNI concept and encouraging them to join.
Those are the five criteria, if you like. Once CEU, one meeting, one 1 – 2 – 1, one referral and one visitor.
Ivan:
And all of these are per week, except the visitor- one per month. All of these thins ar measure able and chapters that do measure them get amazing results because. You achieve what you measure. You have done a video, which I am going to include in this podcast link.
It is very detailed data on what happens when. You do these things and the measure it. In about 30 seconds, Collin, can you describe briefly what they will see when they go to that video link I've got here?
Collin:
You will see a short case study of a chapter that is focused on measurements, focused on the five power of one criteria and remarkably achieved 100% on the ultimate measure, which is what we call chapter traffic lights. A chapter in the Johannasburg north region reached 100% on chapter traffic lights by focusing on the power of one.
Ivan:
And you know, when you are focusing on the power of one, these are the fundamentals. You are doing the basics and you are measuring the basics. If o=you do the basics and measure the basics, you are going to get the results.
Collin, I love this graphic that you have done. I really like the video that you did. IS there anything you would like. To add before we wrap up here?
Collin:
Well, I would just continue to study it and communicate it. I have a number of other case studies that I can show you chapters that are achieving outstanding results by focusing on the power of one.
Ivan:
I would love to see it, Collin, and maybe we can do. An article for SuccessNet based on some of your content here. For everyone listening to this podcast, if you are interested in seeing more that he has done, a lot of it about BNI, you can go to his website. You can also search his YouTube page. I am not kidding you guys. He has done a lot of graphics stuff on BNI. So take a look at his website or YouTube page. His website is www.visualthinking.co.za, or as they say in South Africa, "zed a", right? www.visualthinking.co.za or search YouTube for vistualthinging.za to get more information on what he does.
And, hey, if you are interested , you know, maybe he would be able to help you in your business and thinking about how to present what you are doing in a visual way.
Collin, I want to thank you for all of the contributions that you have made at BNI. Everyone, keep an eye on my Facebook page. You will see more of his work on my Facebook page. It's Facebook.com/IvanMisner.BNIfounder. I would say every couple of weeks, we put up one of his graphics.
Collin, I just want to thank you for your contributions to BNI, to all of our websites, and today, to our podcast. Thank you, Collin.
Collin:
Thank you, Ivan, Thank you.
Ivan:
Back to you, Priscilla.
Priscilla:
Okay, great. Well, thank you, Collin, and thank you Ivan. I think that was wonderful and I look forward to looking at the graphics I would just like to remind the listeners that this podcast has been brought to you by the Networking for Success Channel on YouTube. Thank you so much for listening. This is Priscilla Rice and we look forward to having you join us next week for another exciting episode of the Official BNI Podcast.